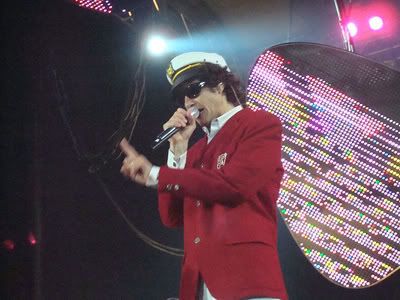 Hot Sauce:
So, once again, I was the first one in the queue for the Beastie Boys show. Documad will be proud of me.
Midzi:
When they opened the gates, you ran through security. [laughs] It was hard keeping pace with you. There was no competition to get our spots.
Hot Sauce:
I wanted to make sure you had a good spot for your first Beastie Boys show.
Midzi:
Yeah, right.
Hot Sauce:
Are you trying to say something to me? [laughs]
Midzi:
That was nice running into Xavito and Top 10 from the message board outside the venue, wasn't it?
Hot Sauce:
Cool dudes. Everyone whom I have met from the message board at shows has been cool.
Midzi:
When the band walked on stage, I was impressed with Mike's outfit.
Hot Sauce:
Mike looks good in red. I loved the outfit and all the yacht talk. Top 10 took some really good photos of Mike backstage before the show. I believe Mike is going to post them on Beastieboys.com.
Midzi:
Horovitz pants did not fit him properly.
Hot Sauce:
Yeah, the pants were long in the crouch and short-legged. I could see his socks! He looked goofy.
Midzi:
I really liked Horovitz' dancing -- especially when his guitar didn't work. And when they goofed around with the reggae music.
Hot Sauce:
I've never seen Yauch dance before. All three of them were dancing reggae-style (i.e., big leg steps in the air). They must have taken goofy pills before the show.
Midzi:
Yauch had really good goofy moments during the show. I think he seems very serious most of the time. You could tell that Yauch was reading Horovitz' mind about what he was going to say to the audience. I laughed when Yauch shook his finger at Horovitz, like "No-no! Don't even think about saying that!"
Hot Sauce:
Fans were yelling songs requests, and Horovitz kept explaining that they would have to come to the show the next day to hear those songs. What songs did you hear being requested?
Midzi:
"Sabotage" is the only song I heard people yelling.
Hot Sauce
: I yelled for them to play "The Gala Event." They must not have heard me. [laughs] I was surprised that they didn't perform "Sabotage." That's quite unusual. I can't say that I missed hearing the song. We heard so much other good stuff. I liked hearing the experimental version of "So What'cha Want" instead of "Sabotage." I'm not sure that I thought it was a good version of the song, but I like that they are fucking around. They keeping messing with "Off the Grid" too. At every show I've heard them perform that song, it sounds different. It's Horovitz. He keeps changing the guitar effects.
Midzi:
I enjoyed when they played "Futterman's Rule" and "Son of Neckbone" because I've never heard them performed live -- even on bootlegs -- and they're my two favorite instrumentals.
Hot Sauce:
I was happy to hear "Transitions." I think that was a first-time for me. For me, "Sabrosa" was the tightest song of the night.
Midzi:
I liked "Shambala." So did the crowd.
Hot Sauce:
That's the song I bailed the show during Sasquatch Festival. I now associate the song with getting hurt. The Barcelona audience was really cool. Not one person was passed over my head last night.
Midzi
: Xavito said that the Sonar Festival draws a more sophisticated music audience than most festivals here.
Hot Sauce:
I noticed! People were there for the music, not the scene.
Midzi:
It was very interesting to me to hear "Jimmy James," "Sure Shot," and "Do It" performed with instruments.
Hot Sauce:
Did you have a favorite hardcore song performance?
Midzi:
For me, they were equally good. When they played "Egg Raid on Mojo," I saw the boyish smiles on their faces. They seem to enjoy playing that song live.
Hot Sauce:
I liked "Heart Attack Man" best. It was good placed in the encore.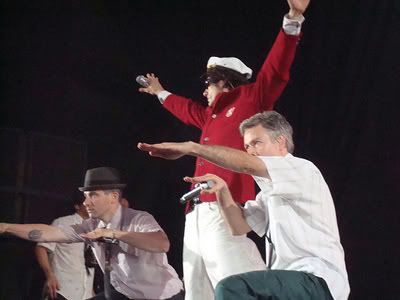 Midzi:
Yauch played the upright with much passion.
Hot Sauce:
I like the way you phrase things in English.
Midzi:
How do you say when someone touches something very softly?
Hot Sauce:
Stroking?
Midzi:
Yes, he was stroking the strings.
Hot Sauce:
Again, I like the way you phrase things in English. It was interesting to see how they worked Mix Master Mike into the gala event. He didn't perform at the gala events in Seattle and at the Sasquatch Festival.
Midzi:
When Fredo played drums, Mix Master Mike played percussions.
Hot Sauce:
Mark was crazy during the show, jumping around with a bottle of champagne. I loved "Mark on the Bus," but I don't think the Spanish audience "got" the song.
Midzi:
I didn't expect "3 MC's and 1 DJ." The audience really responded to the song. I like that you don't know what to expect at a Gala Event.
Hot Sauce:
Word.
Midzi
: We should go to the venue now.
Hot Sauce:
Dang! You're right. I'll have to upload my pics later. We can finish this conversation later too. I want to be the first one into the venue again.
Midzi
: [laughs]
Hot Sauce
: Remind me to describe the new merchandise later.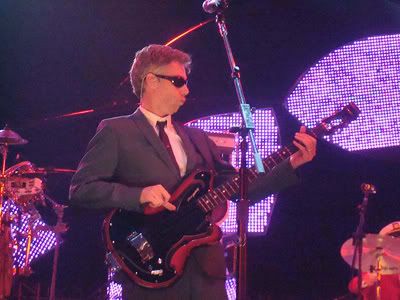 Read Part 2 of the review.
Setlist
B for My Name [
video
]
Live at PJ's [
video
]
Futterman's Rule
Dot It [
video
]
Remote Control [
video
]
Mike talks about his captain's outfit and love for yachting.
Time for Living
Suco de Tangerina
Pow
Something's Got to Give [
video
]
Mark on the Bus [
video
]
Shambala
Transitions
Son of Neckbone [
video
]
Jimmy James
Egg Raid on Mojo
Tough Guy
Off the Grid [
video
]
Root Down & Get It
Sabrosa
Gratitude
Sure Shot [
video
]
Heart Attack Man [
video
]
3 MCs and 1 DJ [
video
]
So What'cha Want [
video
]
Photos