Photos by Espanta Espiritos for
Blitz
From a review of Portuguese news sources, I was able to piece that Beastie Boys performed the following songs (neither in order nor complete) at the Alive Festival yesterday (June 10):
Body Movin'
Root Down
Triple Trouble
Sure Shot
["a few" instrumentals, according to one concert-goer]
Super Disco Breakin'
The Maestro
Skills to Pay the Bills
Pass the Mic
Something's Got to Give
Gratitude
Brass Monkey
Shake Your Rump
Ch-Check It Out
No Sleep Til Brooklyn
So What'cha Want
Intergalactic
Sabotage
Approximately 20,000 people witnessed the Beastie Boys first performance in Portugal. One report said it seemed the entire audience was there just to see the Beastie Boys, applauding them continuously and responding enthusiastically to the songs. The same report said the enthusiasm died down when the band picked up the instruments and performed a new song, "annoying much of the audience." The audience's enthusiasm returned when the band picked up the mics again.

Following an interlude by Mix Master Mike, the band came out with glasses of champagne and performed "Intergalactic" for the encore. The audience booed when Horovitz announced the band had reached their last song, "Sabotage," which they dedicated to George Bush.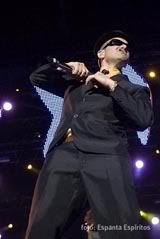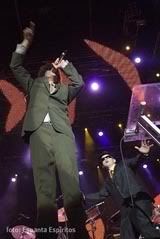 Another report went into more detail about the audience's reaction to the new instrumental(s). Translated, the writer says:
"[When the band picked up the instruments], you could perceive a certain feeling of treason in the air. And the musicians also detected it.

The festival was, clearly, the wrong environment for introducing the material to Portuguese fans."
More Photos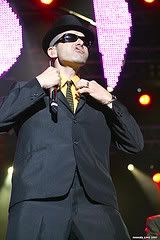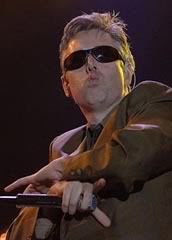 Photos by Manuel Lino and Alvaro Isidoro. Click on the photos to go to the photosets.