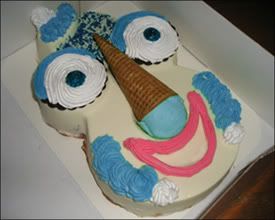 Today is a special day in the Beastie Boys fan community.
Beastiemania.com
, the most comprehensive Beastie Boys fan site on the internets, is celebrating its 4th birthday. An incredible amount of work goes into editing and maintaining this site by a dedicated team. If you appreciate their work,
holla at the staff via email
and tell them so with a birthday wish. They need love.
Also celebrating a birthday today is Pootytang, Beastie Boys überfan and Pageant Tour shout-out video star [
Austin video
/
Dallas video
]. Pootytang (pictured with a bottle of Brass Monkey) is a superdooper guy -- the kind of person who helps and thinks of others. Not too many guys would drag their Beastie Boys dolls 500 miles just so a goofy girl can play with them. Happy birthday, my friend.
In honor of these special birthdays, I have a vintage Beastie Boys show to share. The show, which was a double bill with Run-DMC, took place on May 21, 1987, at De Edenhal in Amsterdam. Dutch radio
VPRO
edited and broadcasted the Beastie Boys' performance. This recording is VPRO's broadcast (cassette source).
Setlist
The New Style [
mp3
]
Banter [
mp3
]
She's Crafty [
mp3
]
Time to Get Ill [
mp3
]
Rhymin' and Stealin' [
mp3
]
Posse in Effect [
mp3
]
Fight for Your Right [
mp3
]
The mp3s will available to download for one week.