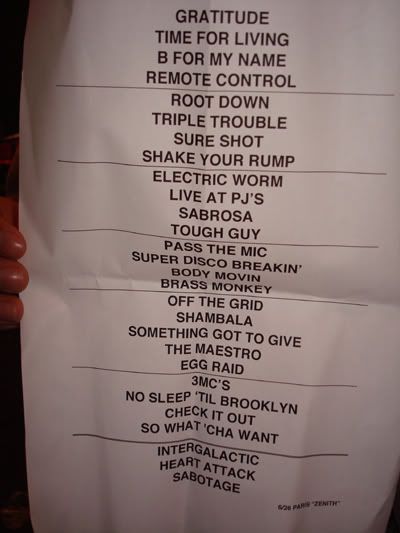 The best thing about the show tonight in Paris was meeting people from the message board in the queue before the show and having drinks with them after the show.
I cannnot lie. Many in our group were disappointed with the show tonight -- not the performance, but the setlist. We were all hoping for a little something special but got a standard set instead. The band devised the setlist for a Parisian audience who hasn't seen a
proper show since 1999
.
Cameras were not allowed in the venue, so I have no photos to share from this show. Also, very few professional photographers were credentialed, so it may be difficult to find any quality photos from this show.
The most interesting thing about this show for some of us was watching Kathleen Hanna shake her booty on the side of the stage throughout the entire show. She was having fun. Spike Jonze rocked out next to her.
On a super-cute note, Tamra Davis brought out Skylar and Davis, dressed in their jammies, to view the audience before the show started. Mike later introduced "Brass Monkey" as the song his sons requested to hear that night.
It's difficult to write much about a show that didn't wow me. Couple that feeling with not having photos and the show is mostly forgettable. That said, Paris is one of my favorite places to see concerts. Parisian audiences are great.
Setlist
Gratitude
Time for Living
B for My Name
Remote Control [
video
]
Root Down [
video
]
Triple Trouble
Sure Shot [
video
]
Shake Your Rump
Electric Worm
Live at PJ's
Sabrosa
Tough Guy [
video
]
Pass the Mic
Super Disco Breakin'
Body Movin'
Brass Monkey [
video
]
Off the Grid
Shambala [
video
]
Something's Got to Give
The Maestro
Egg Raid on Mojo
3 MCs and 1 DJ [
video
]
No Sleep Til Brooklyn [
video
]
Ch-Check It Out [
video
]
So What'cha Want [
video 1
//
video 2
]
MMM Interlude [
video
]
Intergalactic [
video 1
//
video 2
]
Heart Attack Man
Sabotage [
video
]
Photos