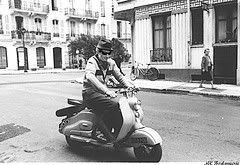 Today is the day. The Beastie Boys European tour begins in beautiful Lisbon, Portual.
Sadly, Midzi and I are not in Lisbon. We couldn't consider attending the Alive Festival because we couldn't find any information on it. The festival had no web site at first. The
site
that the festival eventually launched contains no useful information. Without ticket information or information on the festival in general, we couldn't purchase tickets and plan to attend.
The same is true for the Gala Event show in Lisbon tomorrow. The ticket link posted at Beastieboys.com has been invalid since the day it was posted. We took the barriers to purchasing tickets as a sign from God that we shouldn't go to Lisbon.
Hopefully, the Portugese fans didn't struggle with getting tickets and the Beastie Boys will have some semblance of an audience in Lisbon.
A few things about the European tour...
In addition to our regular tour reports that we will be posting on Mic to Mic, we plan to microblog using Twitter. Twitter allows us to post real-time updates with a mobile phone. Our Twitter updates will appear in the right column on Mic to Mic. We're not exactly sure how successful this will be, but we're going to give it a try. We thought it would be a good way to let our friends know what we're doing and alert fans to special moments.


All of our photos from the tour will be posted to my Flickr page.


We have two extra tickets to the show at the Zenith in Paris on June 26 for sale (face value, of course). Please contact us if you are interested in purchasing them.


We have planned parties in Paris and Gdnyia. If you will be in either or both cities, please contact us so we know where to send the invitation. The location of the Paris party is still under discussion. The party in Gdnyia will be at our rented beach house.


While we're on the road, we've given blogging rights to Klepto, who helped maintain Mic to Mic while I was sans technology at the Sasquatch Festival and Midzi was completing final exams. We like Klepto's enthusiasm for the band and her positive mental attitude. We thank her for her contributions.
We have heard from most of our friends and message board members who plan to attend the shows in Europe. We look forward to seeing you and celebrating the shows together!
The fantastic images shown in this post are by MC Boulangerie. They crack us up. Visit
MC Boulangerie's Flickr page
to see more images.