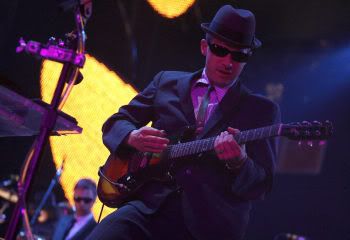 Photo from La Vanguardia (
more photos
)
Setlist:
B for My Name
Live at PJ's
Futterman's Rule
Do It
Remote Control
Time for Livin'
Suco de Tangerina
Pow
Something's Got to Give
Mark on the Bus
Shambala
Transitions
Son of Neckbone
Jimmy James - Happy Birthday
Egg Raid on Mojo
Tough Guy
Off the Grid
Root Down and Get It
Sabrosa
Gratitude
Sure Shot
Heart Attack Man
3 MC's and 1 DJ
So What'cha Want
I'm very sorry that I drained my camera battery and can't upload all the photos and video I took at the concert until the battery recharges. Check back tomorrow.
We're too tired to put together a proper review. I can tell you now that my friend and blog partner Midzi enjoyed her first Beastie Boys show very much despite being extremely tired. When it was over, she told me that it went by so quickly that she felt the entire show lasted only five minutes.
The setlist construction was outstanding. The show had a really good flow. I've heard the band play more tightly than they did tonight, but the positive feel/attitude and the song flow made the show superior to many of the shows I've seen.
The Spanish audience was super cool. Everyone was completely chill -- and it was due to the music, not alcohol and drugs. "So What'cha Want" was an instrumental (with rapping). It was very unusual. I like that they are experimenting.
Michael Diamond. What a cut-up! He wore a captain's outfit and talked about yachting all evening. One of the best moments of the show happened when Mike snuck up behind Yauch and gave him a hug. Yauch didn't expect it and jumped a foot.
Adam Yauch. I don't believe I've ever seen him dance on stage before. Wow.
Adam Horovitz. Sweetie has a cold, but we wouldn't have known if someone hadn't told us. When his guitar became inoperative, he danced his part instead of playing a musical instrument. (I have video of this!)
More details tomorrow. Must sleep now.