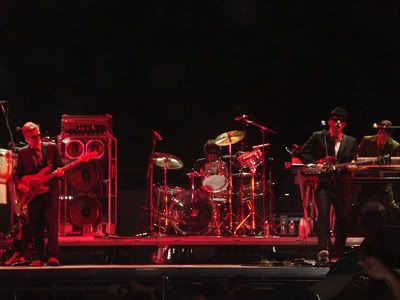 Photo by
infowonders1
Boy, are we glad that we did not go to Greece!
We have learned that the
Ejekt Festival
in Athens, Greece, was a disaster. Shortly after the Beastie Boys went on stage, there was a breach in security that allowed people without tickets to fill the festival grounds. Chaos erupted.
Cars were set on fire
. Smoke filled the festival grounds. What the hell?!
According to
one fan in attendance
, "Beastie Boys were on stage and they just stop performing, said goodnight and rushed off the stage."
It's not clear to us whether Beastie Boys walked off the stage on their own accord or festival organizers made the decision to cancel the festival and asked them to end their set.
We are interested in hearing from fans who were there.
Setlist*
Remote Control [
video
]
This was opening song of their set.
Sure Shot [
video
]
Root Down and Super Disco Breakin'[
video
]
Triple Trouble [
video
]
Pass the Mic [
video
]
No Sleep Til Brooklyn [
video
]
Body Movin' [
video
]
Ch-Check It Out [
video
]
Mike is goofy about fresh bread. "We had lovely, fresh bread at lunch today," he tells the audience as he gets everyone to lift their fresh finger in the air.
3 MCs and 1 DJ [
video
]
This appears to have been their final song at the festival. In this video, you can hear Mike say, "We gotta make movement."
This
alternate video of 3 MCs and 1 DJ
captures Mark telling Mike about what is happening and how they have to get off stage.
*Incomplete