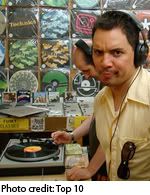 All good things must end. The Beastie Boys European tour is about to wrap up soon. The last performance of their European tour will take place this Saturday (July 15) at the Balaton Sound Festival in Hungary. After that performance, the band will be returning home for a break before beginning the first date of the U.S. tour on August 1 in Philadelphia.
One member of the band, however, is not taking much of a break. Mix Master Mike is scheduled to perform at the
World Electronic Music Festival
, which takes place in Welland, Ontario (near Toronto), on July 20-22. Mix Master Mike will headline the World of DnB Stage.
For ticket information, visit the
World Electronic Music Festival site.