Everyone in Montreux must be partying instead of blogging and posting their photos because we've had little luck finding photos, reviews, and articles about the Beastie Boys show at the festival yesterday. The Gala Event at the festival takes place today. Maybe we'll hear from fans after today's show.
Setlist*
Egg Raid on Mojo / B for My Name / Shambala / The Maestro / Tough Guy [
video montage
]
Yauch dedicates Egg Raid on Mojo to Dave Parsons.
Sure Shot [
video
]
Pass the Mic [
video
]
No Sleep Til Brooklyn [
video
]
3 MCs and 1 DJ [
video
]
So What'cha Want [
video
]
Intergalactic [
video
]
Sabotage [
video
]
Photos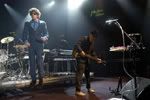 *Incomplete