Photo credit: Aftenposten.no
On July 3, Beastie Boys performed at the Quart Festival in Kristiansand, Norway. I haven't had luck locating any reviews or photos from independent sources. I can only provide the following media links:
Photo credit: Dagbladet.no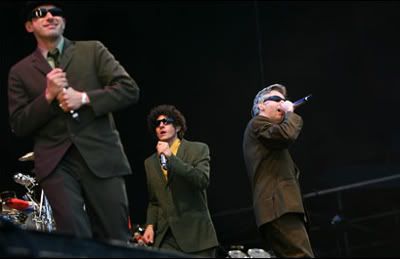 Photo credit: VG.no
Update:
A fan who attended the show contacted us to provide some photos and info about the show.
Ari writes:
I have to say that the gig was amazing -- one of the best I've seen. I was lucky enough to get there from Finland, and it was so worth it!
Among Ari's photos is one of the setlist (see below).
View Ari's photos at Flickr.