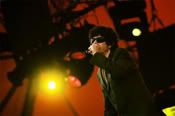 Click on the above photos to visit galleries of photos of the Beastie Boys at Roskilde.
While at the Roskilde Festival, Beastie Boys did an interview with MTV Overdrive. Video of the interview is available at the following MTV Overdrive sites:
Norway
//
Denmark
//
Sweden
. You must be physically located in one of those countries to view the video. Friis was kind enough to rip audio from the video for those who cannot access the video. Download and/or listen to an mp3 of the interview
here
. [9 minutes, 8.37MB]
Most interesting about the MTV Overdrive interview is what the band reveal about what's next for them. Yauch says, "We've got some new joints." He also describes a new project: "We're working on a film version of the album."
"We've got big things comin' up," Horovitz chimes in.
Media
Review of Beastie Boys performance with several photos at Gaffa.dk (in Danish)
Friis provided a translation. She says the reviewer goes on about how great the Beastie Boys were when they performed at Roskilde in 1998. It seems the reviewer longs for the Beastie Boys of yesteryear.


Review of Beastie Boys performance at Ibyen.dk (in Danish)
Check out the nice photo published with the review. English translation by Friis below:
When Beastie Boys are in full effect, they still rock the best street party outside New York. The hip-hop legends were doing well on the Orange stage. They seemed to be having so much fun with each other that they almost forgot they were doing a concert. Dressed in black suits and armed with the punk rock they played before they switched to hip hop, MCA, Adrock and Mike D started the party Roskilde was waiting for. After the fast opener, hits like "Pass the Mic" and "Sure Shot" were flying from the edge of the stage, while the guys from Brooklyn were switching from mics to instruments with a grin on their faces. But then they switched to instrumental songs and the energy of the concert died. Before we all forgot their skills, they returned to their edgy rhymes, so it was sing-along rhyming by the jumping crowed to an awesome and heavy version of "No Sleep Til Brooklyn" and an ending series of hit tunes including "So What'cha Want," "Intergalactic" and "Sabotage." Beastie Boys could have been better, but nobody can front that they are one of hip hop's veterans.


Interview with Beastie Boys at Ibyen.dk (in Danish)
English translation by Friis below:
What should have been a huge interview with hip-hop legends ended in nothing, because the gray-haired boys didn't want to trek in the mud. And they don't want to take anything serious. To interview the Beasties is like trying to get a serious answer out of a school kid who only answers with farting sounds. All they did was goof, do inside jokes, and provide dumb answers to questions. This is strange considering they probably want to be taken seriously on their latest album.

Two hours before they jumped on the Orange stage, we meet them in a small shed behind the stage that was curtained and had an amar shelf [a Danish kind of shelf, left in the pic] on the wall. We should have had the interview around a big table, but the boys were in white sneakers, and they refused to move outside in the mud.

As soon as we got in, we could tell the bad-ass boys, who were sitting shoulder to shoulder in a sofa, were going to be goofing and play the game I-play-kinda-goofy/wack-talk for the next ten minutes. Mike D wore shades and a big wig. At least I thought so.

Ibyen.dk: Your recent album is full of political lyrics. Can we expect political statements on stage?

Mike: I think you should vote for me as president next time.

Ibyen.dk: I promise I will if you are still wearing that wig.

Mike keeps talking, but is interrupted by Adrock.

"What did you say? Did you say he's wearing a wig?" Adrock asks with a grinning smile.

"Yeah," I reply. "I will vote for him if he still has his wig on."

"IT'S MY REAL HAIR!!" Mike yells, pulling his locks. "This interview stops here!" he jokes.

Adrock is thrilled. "That was the best question," he says.

Yes, it's obvious that's the best question when all the other questions are answered by goofy talk about yachts, elephant teeth in his upper mouth, and George Washington's wooden teeth.

Twenty years ago, they would get white kids to dig hip hop, but now they can't make seven white journalists laugh in a shed behind the Orange stage.
Thanks to Friis for the concert review, translations, links, and audio!