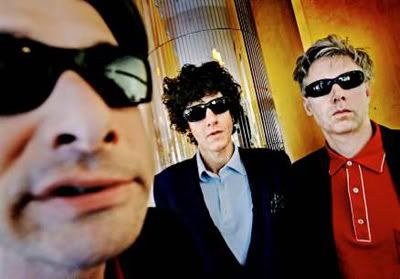 Photo credit: Aftonbladet.se
Although Midzi and I are no longer following the European tour, we are committed to reporting on the tour. We will be "filling in the holes" on the shows that we missed and writing about the remainder of the tour.
Beastie Boys' last performance took place at Grona Lund Tivoli, an old amusement park, in Stockholm, Sweden, on July 4. According to
one person who attended the show
, the audience knew every word of the songs and sang along.
Another person who attended the show
reports that two fights occurred during the show, causing the band to stop the show twice until things calmed down.
From the few photos I found of the show, I surmise that the Beastie Boys' wardrobe did not arrive in Stockholm with them. Did Yauch wear Horovitz' suit? It looks incredibly small on him.
Look ma! No ties!
Photo credit:
Vegasus.se
Photo credit:
Otsubloggblogg
Photo credit:
Aftonbladet.se
Setlist
Super Disco Breakin'
Sure Shot
Egg Man
Posse in Effect
Time for Livin'
Live at PJ's
Gratitude
B for My Name
Remote Control
Body Movin'
Check It Out
Pass the Mic
Shake Your Rump
Off the Grid
Ricky's Theme
Tough Guy
Mark on the Bus
Sabrosa
Suco de Tangerina
Root Down
Triple Trouble
No Seep Til Brooklyn [
video
]
3 MC's and 1 DJ
So What'cha Want
Intergalactic
Heart Attack Man
Sabotage
Press
Concert review by Aftonbladet.se (in Swedish)
I used an online translator to learn that the reviewer described the band as "wicked" when they're performing their hits, but "terribly boring" when performing their instrumentals and "awkward" when performing their hardcore songs. The reviewer says Mike D has the energy of a 17-year-old, MCA is "good-looking," Adrock is "charming and funny," and Mix Master Mike is "dexterous." The review confirms the following songs were performed: So What'cha Want, Root Down, Intergalactic.


Interview with Mike by Aftonbladet.se (in Swedish)
An online translator provided results that did not make much sense. I did understand that the interviewer asked what they are doing on the tour when not performing. Mike answered that they eat a lot (something confirmed by Kathleen Hanna in Paris), fight a lot ("all the time -- about everything"), and buy a lot of records. The interviewer also asked if they think it's time to retire. Mike responded: "We have no plans on stopping. We will record a new record next fall."


Video of Beastie Boys performing "Brass Monkey" in Stockholm
This video can only be viewed in Sweden and possibly other European countries. If anyone can rip and post this video where it can be viewed by all fans, please contact me.
Photos