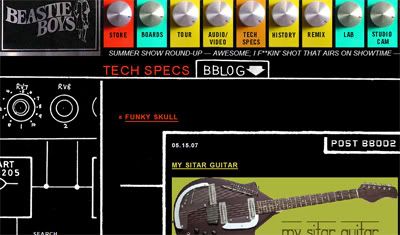 Click on image for enlargement.
Looky-looky at what we found! It looks to be the new design for
Beastieboys.com
.
Here's what we found in the tour section:
"Now we are practicing for our upcoming tour (check the tour diaries section) and blasting all up in the blogosphere with this stuff. Hope you like it. And if you don't, we'll try harder, or you can just blog on your own damn self! What am I supposed to be blogging about anyway? The beautiful weather we have been having here in the NYC? The vegan banana chocolate chip muffin I am eating, actually more on that in the future. Blog blog blog blog yada yada"

by Mike
And wowie! Oscilloscope has a
Flickr account
too! (Turn on the comments, guys. That's the best feature of Flickr.)
Here are some more pics from the new site:
You click on the buttons and they play snippets from the new album.