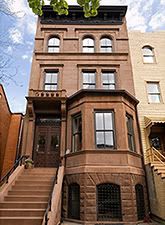 Brownstoner.com
, a blog devoted to the historic brownstones of Brooklyn, reports Adam Yauch was spotted with his wife and daughter at an open house of a brownstone for sale in Clinton Hill last Sunday.
The property, located at
219 Washington Avenue
, is a 3,800-square-feet, 4-bedroom home with -- get this! -- a toilet
in
the master shower. The house is priced at a whopping $2.4 million.
Yauch must be expecting
The Mix-Up
to sell well.