With the Beastie Boys, you can always expect the unexpected. But having spent some time watching the Beastie Boys rehearse via the
O-scope cam
, we have
somewhat
of an idea what to expect at the Gala Event shows.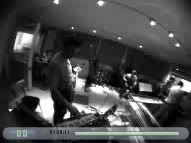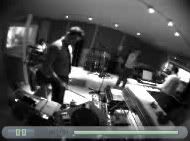 Expect to see Adam Horovitz pull double-duty on guitar and keyboards. We think he might being playing a glockenspiel, xylophone, or some instrument requiring a mallet too. (Note the drumstick or mallet in his hand in the photo on the right.)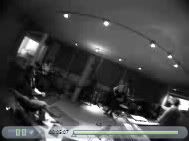 Expect to see Adam Yauch switch between the bass guitar (left photo) and upright (right photo). No surprise there.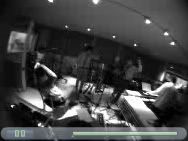 It's all about the drooommss!!
Expect to see possibly two drum kits, one for Mike Diamond and one for Alfredo Ortiz, on the stage. (Mike and his drum kit are mostly visible in the photo on the left.) Or expect to see Fredo take Mike's seat on occasion if there is only one drum kit. (Fredo is the white spec below the window in the photo on the right.)
Fredo will also have a percussions set-up. It can best be seen in the
rehearsal video for "The Electric Worm,"
which was posted at Beastieboys.com.
Expect to see Mike come out from behind the drum kit for a song. We're not sure what he will do. In rehearsals, it looked like he was singing to one of the new songs.
This might be a real surprise!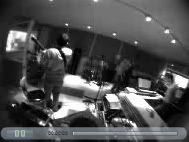 Expect to see Money Mark (on the left in the photo) play guitar, while Horovitz handles keyboards by himself.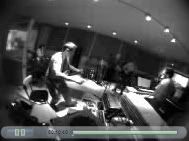 Expect Horovitz to shake his booty. No surprise there.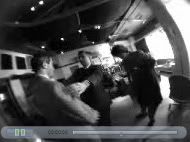 And, finally, expect to see the band sporting new suits and fresh haircuts.