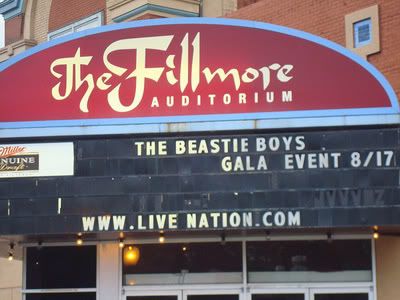 I received the following email about the Denver Gala Event from Ticketmaster. The core of the message is something we've heard before (i.e., dress to impress); however, review the bullets in the message to read something new.
Message from Live Nation

Hello, this is Ticketmaster Customer Service with an important reminder about your upcoming event. THE BEASTIE BOYS, scheduled at THE FILLMORE AUDITORIUM on FRIDAY AUGUST 17 2007, would like to remind you that this event is a "Dress to Impress Gala." Wear a suit, a tie, a dress, a gown, or whatever you feel dressed up in. AND PLEASE leave your cargo short, Birkenstocks and t-shirts at home. This is not that kind of party. At this event you will
Walk the Red Carpet

Pose for the Cameras
Doors open at 7:00 p.m. local time
Either the Beastie Boys are pulling our leg about the red carpet or the Denver Gala Event is going to be super special.