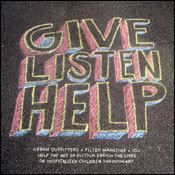 Beastie Boys have donated one of their bonus tracks from
The Mix-Up
to a charity compilation CD that benefits
The Art of Elysium
, a non-profit organization that helps children who are battling serious medical conditions with music and art therapy.
The
Give Listen Help
two-CD set, compiled by
Filter magazine
, may be purchased at
Urban Outfitters
for $14. $12.88 of the cost goes directly to the charity, so you can feel good about buying this CD and helping the kids too.
Tracklist
Disc 1:
Beastie Boys: "The Mix-Up" (B-side)
Coldplay: "Pour Me" (Live at the Hollywood Bowl)
Band of Horses: "The End's Not Near"
Rilo Kiley: "Big Break"
Hot Hot Heat: "Money & Reputation"
The Stooges: "Claustrophobia"
Kaiser Chiefs: "Out of My Depth"
Travis: "Up the Junction"
The Go! Team: "Bull in the Heather"
The Decemberists: "Shankill Butchers"
Menomena: "Gay A"
Cold War Kids: "A Change Is Gonna Come" (Live)
The A-Sides: "Diamonds" (Live at WOXY.com)
Annie Stela: "White June"
Mew: "White Lips Kissed" (Live in Japan)
Two Sheds: "Psycho Killer"
Patti Smith: "Perfect Day"
Disc 2:
Silversun Pickups: "Lazy Eye" (Brian LeBarton Remix)
Blonde Redhead: "Signs Along the Path" (Maps Remix)
Interpol: "The Heinrich Maneuver" (The Scientist Dub Mix)
Air: "Mer du Japon" (Remix by the Teenagers)
Peter Bjorn & John: "Young Folks" (Punks Jump Up Remix)
The Wolfmen: "Jackie Says" (Alan Moulder Mix)
The Pipettes: "We Are the Pipettes" (Live from the Cherrytree House)
Carina Round: "January Heart" (Buffalo Bill Remix)
Low: "Hatchet" (Optimimi Version)
Mando Diao: "Good Morning Herr Horst" (RAC Remix)
Magnet: "Hold On" (Metronomy Mix)
The View: "Face for the Radio" (Live at Caird Hall)
The Maccabees: "XRay" (Filthy Dukes Remix)
Ladytron: "Soft Power" (Vicarious Bliss Gutter Mix)
Datarock: "Fa Fa Fa" (Riton New School Remix)
Fields: "Song for the Fields" (Eliot James Remix)