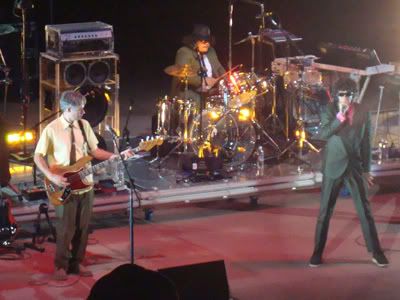 The Beastie Boys show at Red Rocks tonight was easily the worst Beastie Boys show I've ever seen.
Wham! Bam! Thank you, fans!
Never before have I seen the band rush through their performance as they did at Red Rocks. Instead of performing the songs with precision and pizzazz, the band zipped through each song. The song performances seemed like tasks for them to complete within a certain time limit. It would have been better if they had performed fewer songs than rushed through the setlist in order to meet the venue's curfew.
When the band were not playing instruments, they favored standing at the very edge of the stage, like they do when playing at a small club. Because the seating at the venue is extremely pitched, only the first 15 rows of the audience could see them well. (Imagine sitting on the top of a ski hill and looking down at the base of the hill over many people.) Adam Horovitz, in particular, was "invisible" to most of the audience throughout the show. At one point, Adam Yauch jumped off the stage and into the audience. Nobody could see what he was doing. When he got back on stage, he said he wanted to see what the mobile (the lights/video monitors) looked like from the audience's perspective.
Who were they talking to?
When the band addressed the audience, they directed their comments to specific individuals, alienating the audience. In general, they didn't involve and engage the audience in their performance like they normally do. What little Beastie Boys banter the audience was treated to was not goofy dumb; it was just dumb. Nobody was laughing.
The setlist was unimaginative. It had many of the songs that the band performed the
last time they were at the venue.
Normally, Mr. Setlist Man tries to ensure that the audience gets a little something different when the band return to a venue, but all he gave them was "No Sleep Til Brooklyn." (I'm discounting the hardcore and instrumentals.) The group of people sitting a few rows behind me chanting "Egg Man" had it right.
What happened to those guys who used to bust out a fun song like "Egg Man" or "High Plains Drifter" every once in a while and make an audience so happy?
The Red Rocks audience was enthusiastic despite the show lacking charm. People seemed to be enjoying themselves. (It might have been the beer.) Signs posted outside the venue discouraging crowdsurfing, as well as the bleacher seating, kept people from acting stupid. The worst audience offenses were people trying to stand in areas that their ticket did not allow them to -- but that
always
happens at that venue.
Before anyone attributes my negative review to my mood and circumstances, let me say that I was in a very good mood, had a great seat, sat next to great friends, and didn't get hurt (now a constant concern of mine, unfortunately). I was completely ready to be entertained and enjoy the show. I was disappointed because I know what a good show is like.
Opener:
Static Revenger
Setlist
Gratitude
Time for Living
Remote Control
Off the Grid
Root Down
Triple Trouble
Sure Shot
Shake Your Rump
Electric Worm
Live at PJ's
Sabrosa
Tough Guy
Pass the Mic
Super Disco Breakin'
Body Movin'
Brass Monkey
B for My Name
Shambala
Lighten Up
Egg Raid on Mojo
3 MCs and 1 DJ
No Sleep Til Brooklyn
Ch-Check It Out
So What'cha Want
MMM Interlude
Intergalactic
Heart Attack Man
Sabotage
Opinion (via Blog Search)*
*Uncredited for ridicule purposes
"We went to the Beastie Boys show at Red Rocks last night! Those are some rowdie 50 year olds man!"
"You know you are getting old or a band is getting old when you see some women with Salt and Pepper hair holding her kids hand, wearing no bra anxiously trying to get into the concert. No bueno.""Although it's the 3rd time I've seen them, it's actually the first time I've seen them while straight and I have to say that made it waaaaaaaaaaaay better."
(The same person goes on to describe how she snuck to reserved row 3 even though she had a GA ticket and lists songs as being performed that were not performed.)
"AdRock got drunk and gave a little speech about how everything is okay at this moment in Red Rocks even with the war going on. That was annoying."
(Adam Horovitz was not drunk.)
"Was a great show - hip hop is never great live but for the most part it sounded awesome.""The Beastie Boys put on a great show last night at Red Rocks. Those guys rock it good, esp. for being 40+."Saw the Beastie Boys last night at Red Rocks.....had row 36 tickets, but decided to 'stop off' in row 5."
(The show was full of this kind of asshole.)
"beastie boys was pretty much INSANE!!!! mix master mike is a friggin god, its ridiculous. and the crazy piano guy was all over the place!!!""The beastie boys concert looked like a GAP commercial."
(This comment describes the audience.)
"I just got back from seeing the Beastie Boys at Red Rocks...they still can tear it up.
Press
Review by the Denver Post