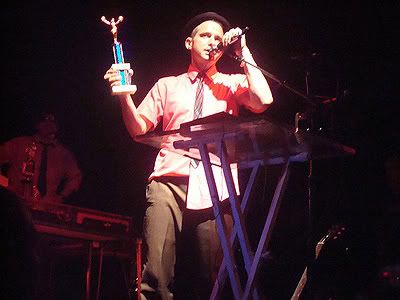 Click on the above image to see a photoset.
"The award for best-dressed Gala Event audience goes to Denver."
Reviewing the Denver Gala Event is a challenge for me because I believe my experience is not comparable to others' experiences. I was blessed to be standing next to very nice people at the rail. I had a really positive experience and enjoyed the show immensely. After the show I met my friend, who came separately and stood near the mix desk. The first words out of her mouth were "I hate Beastie Boys fans!!" She described her experience of standing near extremely intoxicated people, pushing and falling on top of her. When I left the venue with her, I witnessed the extreme drunkness that I did not notice during the show because of my position.
Geesh,
Denver got its drink on at that show! I haven't seen that kind of extreme intoxication at any Gala Event -- or hip hop show, for that matter. It was like mardi gras or spring break -- people barely able to walk, people tripping over their own feet, people carrying their passed-out friends, etc.
The Denver Gala Event was surrounded with strangeness. When I arrived at the venue at 4 p.m., I found Fillmore staff setting up the red carpet and photo area. They had a life-sized cardboard cut-out of Beyonce and the Beastie Boys. Fans who arrived early were invited to have their photo taken with the cut-outs. Later, when it began to rain, the Fillmore staff took down everything and set it up inside the venue. (I never did see where inside the venue.)
Shortly after I began the general admission line, other fans began to show up and join me. Around 5:30 p.m., Fillmore staff came out and announced that they were going to create two lines and people who were "dressed to impress" would be given preferential entry into the venue. When fans questioned who would determine who was dressed well or not dressed well, the Fillmore staff were unable to provide an answer. When fans quoted the email that said you could wear whatever made you feel dressed up, the staff returned inside for clarification from the Beastie Boys camp. After 15 minutes, they came out and said entry would be based on line order, which is what people wanted to hear. No one was happy about being told that they were going to be judged.
It turns out the Beastie Boys should have asked people to dress their souls, not their bodies. There was a lot of audience drama inside the venue -- people arguing about their spots, people getting mad because they were being pushed, etc. There was one particularly nasty woman a few people down from me on the rail. She verbally abused and threatened anyone who invaded her space. I asked some of her "victims" to come stand by me to get away from her vileness. Later, during the show, the nasty woman threw a feather boa she was wearing on stage. Adam Yauch picked it up and
put it around his neck
for one song. I tried to signal to him not to do it, but he didn't see me. Poor Yauch's chi is going to be fohked up because of that boa and its association to that nasty woman.
Despite a sign posted outside the venue that stated anyone moshing or crowd surfing would be kicked out of the show, moshing occurred nevertheless. During "Heart Attack Man," a bunch of idiots moshed to the extreme, hurting many people. It was pretty sickening to see men slam into women wearing gowns and high heels. When the song ended, Adam Horovitz mumbled "assholes, assholes, assholes" into his mic.
The band seemed pleased that the majority of the audience were dressed to impress. Horovitz and Yauch commented that the Denver audience was the best dressed of all the Gala Events. Frankly, as a concert-goer, I don't think the audience being dressed up made the concert experience any more or less enjoyable. The outfits didn't cause people to act any better or encourage the band to perform any differently -- but I wished it did.
The pace of the Gala Event was much more relaxed than the Red Rocks show. The band were more personable and addressed the Denver audience more often than at the show at Red Rocks.
"Anyone ever eat at Breakfast King?" asked Mike Diamond. "Any good?" The audience cheered wildly. (My friend told me Breakfast King is a greasy spoon diner with awesome food, but located in a bad neighborhood in Denver.)
Song dedications added to making the show more personable. Horovitz dedicated "Root Down and Get It" to a relative of Kathleen Hanna (a sister?), and Yauch dedicated "Do It" to Biz Markie. There were also stories. Horovitz talked about Ricky Powell's froze-ade stand before "Ricky's Theme."
An awkward moment occurred toward the end of the show when Horovitz accepted a sneaker from a man in the audience and autographed it. He then took the shoe to Yauch and Diamond, who also signed it. Recognizing the faux pas of making the audience wait, Yauch jokingly asked if anyone else had something they wanted signed.
With each Gala Event that I attend, I find my appreciation of certain songs growing. In particular, "Shambala" has become my favorite song performed at both the Gala Events and hip-hop shows. It used to be a song that I skipped when listening to
Ill Communication
. Watching Yauch totally dig and become one with his instrument while performing the song is a big part of my new appreciation of the song. There's something special about seeing an artist truly enjoy playing a song. I can't say that I always feel that with the Beastie Boys. Sometimes it feels to me that they are going through the motions -- particularly, at the hip-hop shows. For me, they shine at the Gala Events because they seem to be enjoying playing those songs.
Setlist
Son of Neckbone
Suco de Tangerina
Live at PJ's
14th Street Break
Futterman's Rule
Remote Control
Time for Living [
video
]
Pow
Lighten Up
Root Down & Get It
Electric Worm
In 3's
Egg Raid on Mojo [
video
]
The Gala Event [
video
]
Jimmy James [
video
]
Groove Holmes
Song for the Man
Mark on the Bus
Shambala
Sabrosa
Tough Guy
Off the Grid
Ricky's Theme
Do It
Heart Attack Man
Gratitude
So What'cha Want [
video
//
alternate video
]
Sure Shot
3 MCs and 1 DJ
Sabotage
Please note that the setlist above does not jive with the
official setlist
. The above setlist is accurate.
Audio
Audience recording of the show (torrent)