Mic to Mic took a break during the holidays, but we're back now with some news and rumors to share about your favorite band.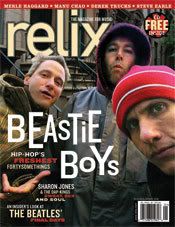 Beastie Boys are on the cover of the December/January issue of
Relix magazine
. You can find the magazine at both Borders and Barnes & Noble in the United States. The Relix web site says if you register for its digital magazine, you can read the article online for free; however, it's a lie. The magazine has not yet posted its December/January digital issue, so don't be a sucker and sign up.
Our scanner is currently out of commission, but we'll try to post photos of the article -- which is an interview with the band before their
New York City Gala Event
at the Hammerstein Ballroom -- in
our Flickr account
very soon. (
Update:
Scans have been posted
.)
Our copy of
Ari Marcopoulos' Ad Rock book
arrived in the mail. We'll be posting a review as soon as Midzi receives her copy. (We don't want to ruin it for her.) We will post a few additional photos from the book with our review to peak your interest, but don't expect us to reveal all the photos. If you want to see the photos,
buy the book
.
A band insider has confirmed that Adam Yauch is "slaving away" on the Detroit/Chicago Gala Event dvd. A quick check-in with the band's label resulted in our learning there is no scheduled release date yet.
On to the rumors! We've heard from a few industry sources (not from the label) that Beastie Boys may be doing some appearances and shows related to the dvd release. One source tells us that they are "almost confirmed" to appear at one of the bigger music/film conferences in the South (our best guess would be
SXSW
). Frankly, we are very skeptical about this rumor, but it's the Beastie Boys, which means "Anything goes!" So far, the only 2008 appearance confirmed by the band is at the
Langerado Festival
on March 6-8 in South Florida.