Book Review
Ad Rock
by Ari Marcopoulos (
Nieves
)
Paperback, 32 pages of black and white photography
The purpose of a photography book on a single subject is normally to (1) reveal something about the subject (i.e., provide insight into the person's personality or lifestyle), (2) illustrate a history of the subject (i.e., tell the subject's story), or (3) showcase the photographer's skill and adeptness at photographing the subject. Given the photographer's history and personal relationship with the Beastie Boys, as well as his years of experience as a photographer, I expected Ari Marcopoulos' book
Ad Rock
to do all three things. Instead, the book fails to do any of those things.
When I learned about Marcopoulos' book, I hoped that it would attempt to reveal something about Adam Horovitz, the man (as opposed to the artist). The book title, however, is
Ad Rock
-- not
Adam Horovitz
-- and it does not give away any secrets or shed any new light on the man. There are no surprising photos of Horovitz doing something unexpected or with someone unusual. There are no intimate photos of him with loved ones, except for two photos of him with ex-wife Ione Skye, which don't garner the same emotional response if the relationship had endured. Horovitz is presented in
Ad Rock
as we are accustomed to seeing him: with Adam Yauch and Mike Diamond, in the studio, in rehearsal, and on stage.
When the setting of a photo doesn't tell me anything about the subject, I look to the details within the photographs. Again, the details fail to tell me anything I don't already know about Horovitz: he is an animal lover (there are two photos of him with his dearly departed dog Freddie); he's a multi-instrumentalist and producer (there are photos of him with his guitar, a sampler, and behind the mix desk); and he's a bit goofy (there is a photo of him kissing the Adrock doll). No surprises. Nothing new. In fact, several of the photos in
Ad Rock
were also published in Marcopoulos' 2001 book
Pass the Mic: Beastie Boys 1991-1996
.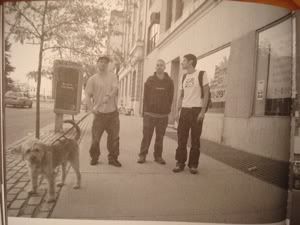 The photos in
Ad Rock
are not organized by date, so a history or progression of Horovitz as an artist isn't presented. No photo captions, dates, or text help to explain the photos. Does Marcopoulos think it's not important to identify the people in Horovitz' life? Am I supposed to know who all the people are? (I recognize Mike Watt, Ione Skye, Money Mark, Eric Bobo, and, of course, Yauch and Diamond.)
The photos do not represent Marcopoulous' best photos of Horovitz. You can see better photos of Horovitz by Marcopoulos on the
Beastie Boys' official web site
(he took all the very stylized photos that rotate on the main page now) and
Pass the Mic: Beastie Boys 1991-1996
. Many of the photos in
Ad Rock
are out of focus and oddly framed -- some even seem to be printed from damaged negatives or have been purposely damaged for artistic effect.
In dramatic contrast to most of the photos, one portrait of Horovitz taken to promote the Beastie Boys' 2007 album
The Mix-Up
(which was also published in the
New York Times
) illustrates Marcopoulous' technical proficiency as a photographer today. The portrait makes you think of how much photo technology has advanced since Marcopoulous began photographing the band and illustrates how Marcopoulous has grown as a photographer. Likewise, the portrait of Horovitz, decked out in a nice, shiny suit (instead of a t-shirt and jeans) and holding a guitar, also makes you think of how Horovitz has advanced as a person and an artist.
So, Marcopoulous doesn't reveal any secrets about Horovitz, tell Horovitz' story, or show us his best photos of Horovitz in
Ad Rock.
What's the point of the book then? Something was missing. I decided what might be missing was my fault -- that I don't know enough about the photographer -- so I researched him. The one comment about Marcopoulous that I read repeatedly was on his ability to be accepted by his subjects. Like a
National Geographic
photographer, Marcopoulous shoots his subjects in their natural habitat without interfering and altering their behavior. This information didn't help me understand Marcopoulous' choice of photos, their layout, or his decision not to narrate the book.
Frustrated that I wasn't "getting" the book, I turned to other people's photos of Horovitz. In my review of others' photos, I realized what was bothering me about Marcopoulous' book: it lacks timely insight. I don't believe Marcopoulous knows the Adam Horovitz of
today
. I assumed (it seems incorrectly) that Marcopoulous has been a continuous insider, someone privy to Horovitz' true character over the years. I now believe that's not the case. Perhaps Marcopoulous knew Horovitz and the band well back "in the day," but I'm not convinced he knows anything about them today.
Two people whose photographs I referred to for comparison were Cey Adams, who has been friends with Horovitz since before Beastie Boys formed, and Jamie Billett, who was the band's video operator during the Beastie Boys 2004 Pageant tour. Billett's and Adams' photos were published on the tour blog at Beastieboys.com and instantly delighted fans because they revealed the band as they are (i.e., goofy) and the way fans
want
to see them (i.e., goofy). Billett's photo of Yauch on the banana phone, Diamond wearing a clown's nose, and Horovitz wolfing down a hamburger are infinitely better photos and more pleasing to look at than anything in Marcopolous' book because they reflect the three men today. Adams' photos of his friend are in unique and personal settings (on an airplane, with his brother, etc.) and are evidence to Horovitz having other sides. Both Billett's and Adams' photos say to me, "I really know Adam Horovitz. This is who he is." Sadly, I don't feel that from any of Marcopoulous' photos in
Ad Rock
. Marcopoulous' photos leave me alienated and unimpressed. I don't feel that the photographer considered who would want to look at the photos.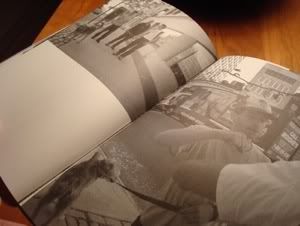 Marcopoulous shows no understanding for what Beastie Boys fans like with his book. A blurry photo of records? A photo of a video screen in which Horovitz and Yauch are blurred together? Is that what I, as a Beastie Boys fan, am supposed to like? I don't think so. And I don't think I'm alone in my taste. I like the banana phone, the clown nose, the funny faces, and the goofy attitude. Marcopoulous photos in
Ad Rock
lack personality, intimacy, and illumination on the subject -- all things photographs should accomplish.
In the end, I think
Ad Rock
does a disservice to Adam Horovitz because the photos make him appear single-faceted -- like all he is a musician. You don't have to know him personally -- or see other people's photos of him -- to know that there must be more to him than what you see on stage and in the studio. On the upside, the book does successfully project one positive theme:
what you see is what you get
. Clearly, Horovitz is comfortable in his own skin and doesn't feel the need to dress his personality when he's on stage or in front of a camera.
Marcopoulous' book is not horrible; it simply lacks depth into the subject. Marcopoulous is a skilled photographer with an interesting history and approach to his subject; however, he just doesn't show what the average Beastie Boys fan is interested in seeing -- at least not today. I am a huge fan of
Pass the Mic: Beastie Boys 1991-1996
. Marcopoulous' photo of Mike Diamond and Tamra Davis in that book is one of the most touching photos of a couple in love that I've ever seen by any photographer. There are many memorable and fantastic photos in
Pass the Mic
, which makes
Ad Rock
even more disappointing. What happened between then and now? The only answer I can come up with is the photographer and subject's relationship has changed. They aren't what they used to be to one another.
There is only one photo in
Ad Rock
that captured my interest. And it's not Horovitz who is interesting in the photo -- it's Yauch. The photo shows Horovitz reading and Yauch napping on the floor of a packed airport lounge. It's an interesting photo because it's rare to see Yauch with his guard down.
Priced under $20 [now available to purchase at
Amazon.com
],
Ad Rock
is worth getting if you are a Beastie Boys collector. However, if you expect to learn something about Horovitz from the book or see him like you've never seen before, you will likely be disappointed with
Ad Rock
.