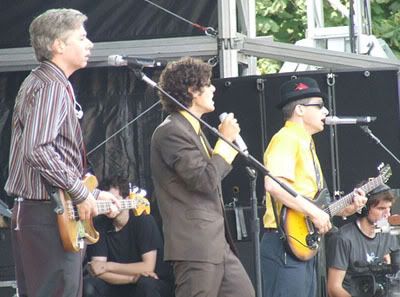 Photo by
Rocket Stu
I'm not sure what happened at
Bestival
, but most of the reviews I've found on the Beastie Boys' headlining set on Saturday are negative. I've been waiting to publish what little information I found on the show in hopes that I'd find some good fan reviews. That's not happening.
Did the Beastie Boys deliver a bad set or are British festival-goers overly harsh critics? How bad could a show in which Mike Diamond renamed the Isle of Wight (the location of the festival) to the Isle of Mike be?
Setlist*
MMM Intro
Time for Living [
video
]
Triple Trouble [
video
(with Sure Shot)]
Sure Shot [
video
]
Root Down
Off the Grid
B for My Name
Electric Worm
No Sleep Til Brooklyn
Ch-Check It Out
3 MCs and 1 DJ [
video
]
Intergalactic
Heart Attack Man
Sabotage
One
blogger reports
that they performed "Rhymin' and Stealin'." They have
not performed that song in over 12 years
.
*Incomplete
Press