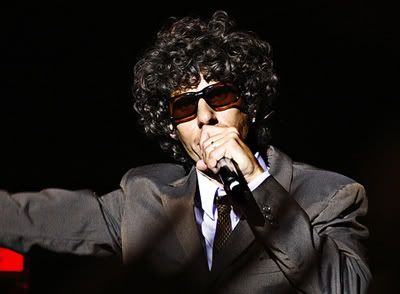 Photo by
Fabbio
Opener:
Spank Rock
Setlist
MMM Intro
Super Disco Breakin' [
video
(with MMM Intro & Sure Shot)]
Sure Shot
No Sleep Til Brooklyn
Posse in Effect
Time for Living
Live at PJ's
Remote Control
B for My Name
Body Movin'
Ch-Check It Out
Paul Revere [
video
]
Pass the Mic
Egg Man
Egg Raid on Mojo
Off the Grid
Suco de Tangerina
Tough Guy
Root Down [
video
//
alternate video
]
Triple Trouble
Hello Brooklyn
So What'cha Want
3 MCs and 1 DJ [
video
//
alternate video
]
Gratitude
Shambala [
video
]
Sabrosa
Heart Attack Man
MMM Interlude [
video
]
Intergalactic [
video
]
Sabotage [
video
//
alternate video
]
Opinion (via Blog Search)*
*Uncredited on purpose
"At some points, MCA looked so tired, like he wanted to go home and read a book, and the sound wasn't too great, but come on, it's the Beasties, who cares?!""Age definitely has not withered them. Musicianship and live band feel is the best I've ever seen them. With both Money Mark and Mix Master Mike on board, they are unassailable. Genre-hopping exquisitely from thrash to funk to hip hop and pogo pounding energy. Slightly let down by current fixation on instrumental tracks.""Mostly a very enjoyable experience, they did put on a good show, and basically were doing greatest hits from every era. However, the sound sucked arse. Loud vocals, very quiet beats. As a big fan of their DJ Mix Master Mike, this was particularly annoying.""The 'boys' were on top form, and just looked like they were having a brilliant time, with the audience in the palm of their collective hand. The set was a mix of old hits plus occasional instrumentals taken from their new album. The balance worked really very well, with just the right number of pauses and really gave the crazy hits room to breathe. Reminds you they started out as a 'proper' band too, and have some skills on the instruments, but more so as songwriters and showmen."
Photos