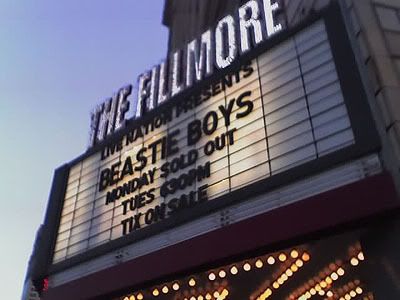 Photo by
Kevin Yezbick
Setlist
Time for Living
Riot Fight
Remote Control
Super Disco Breakin'
Triple Trouble
Sure Shot
Shake Your Rump
Heart Attack Man
Gratitude
B for My Name
Sabrosa
Root Down
Pass the Mic
Rhymin' & Stealin'
3 MCs and 1 DJ
Paul Revere
The Maestro
Electric Worm
Shambala
Tough Guy
Off the Grid
Body Movin'
Ch-Check It Out
Professor Booty
No Sleep Til Brooklyn
So What'cha Want
Intergalactic
Sabotage
Thanks to Brooklyndust for the setlist!
Jason shares some concert highlights:
During "Pass the Mic," Adrock totally messed up his lines and repeated the same verse from earlier in the song. They had to stop the whole show because MCA didn't know where to pick it up from. Mix Master Mike had to go back and start the beats over again. And again, during "Professor Booty," Mike D forgot his lines about halfway through, and they stopped the whole show. It was funny because Adrock and MCA were trying to help him remember. Mike D blamed it on not performing the song in 15 years.
Brooklyndust describes the surprise performance of "Professor Booty," which has
not been performed since 1992
:
I cannot believe they played it. The song was not flawless. They screwed up some parts. Mike was reading the lyrics off a piece of paper. MCA killed it during the 3rd Bass diss at the end. Right after "Professor Booty," they did the chorus from "Some Dumb Cop Gave Me Two Tickets."
Press
Concert review by the Detroit News

Photos