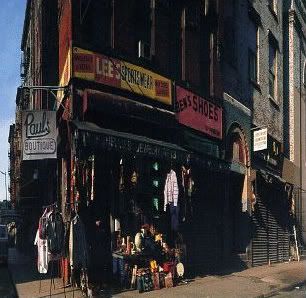 The best thing about the Beastie Boys fan community is the kindness of its members. The generosity and goodwill shared among fans amazes me. Fans are constantly doing nice things for other fans -- for no reason other than to be nice. A shared positive spirit exists among Beastie Boys fans that one does not find often in other bands' fan communities -- or in any type of community, for that matter. In general, Beastie Boys fans are a lot like the band: goofy and huge-hearted.
Fans often write to me to share interesting stories and material with the fan community via Mic to Mic,
Beastiemania.com
, and now
Wall to Wall
. One fan contacted me recently to share a dvd that he compiled.
"A Sampler's Guide to Paul's Boutique"
is a collection of the songs the Beastie Boys sampled on their ground-breaking and much-loved album. The dvd, which is available to
download in two parts via Wall to Wall
[NEW LINKS:
Part 1
and
Part 2
], includes printable cover art and a tracklist that details how the songs were sampled.
Props to JB for making this dvd available to the fan community. It contains educational material that every serious Beastie Boys should listen to and study. Many of the songs are out-of-print, hard-to-find, or available on vinyl only. The free download is accompanied with a message to support the artists and buy their records if you like what you hear.
If you have something you would like to share with the fan community, please
email us
or send a PM to Klepto or Midzi on the Beastie Boys Message Board.