Yesterday the
Tribeca Film Festival
announced the spotlight and showcase films for this year's festival. Adam Yauch's documentary,
Gunnin' for That #1 Spot,
is one of the spotlight films premiering at the festival. A
press release
by the festival provided the following information: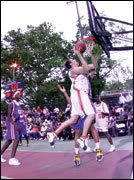 Gunnin' for That #1 Spot,
directed by Adam Yauch. (USA) -
World Premiere, Documentary.
Rucker Park. The mecca for all street basketball players. In Beastie Boy Yauch's super-energized and highly musical documentary, eight of the country's top 24 high school players participate in the first "Elite 24" tournament on the same court that helped turn Dr. J, Kareem Abdul-Jabbar and Wilt Chamberlain into legends.
An Oscilloscope Pictures Release. Part of the Tribeca/ESPN Sports Film Festival.
The festival will take place April 23 - May 4, 2008, in Lower Manhattan.
Register to receive email updates from Oscilloscope Pictures at
Gunninmovie.com
.