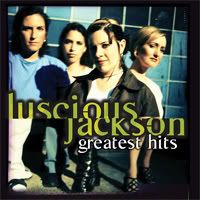 Luscious Jackson will be
releasing a "Greatest Hits" collection
on February 20 that will include a previously unreleased remix of "Why Do I Lie?" by Mike Diamond. The Beastie Boy has amusingly titled his remix "Why Do I Lie? (Pants on Fire Remix)."
Luscious Jackson is, of course, a former
Grand Royal
artist, whose drummer,
Kate Schellenbach
, was an original member of the Beastie Boys.