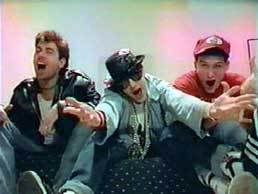 It was 20 years ago today (January 24, 1987) that the Beastie Boys' first single,
"Fight for Your Right,"
entered the
Billboard Top 10.
Although the band have not performed the song in two decades (
not since August 20, 1987
), it remains their most well-known and popular song.
To commemorate this monumental anniversary, we have a few versions of the song to share.
"Fight for Your Right" on WWW