Midzi and I decided to kick the blog up a notch. We are going to attempt to offer more rare audio and video offerings to our fellow Beastie Boys fans.
Midzi started off the rare offerings with posting the
unreleased "Body Movin'" video,
which she and I both find amazing. We would like you to share your thoughts and opinion on this video in the
comment section here
or on the
Youtube.com page
on which the video is located. (We modified the comment settings to allow anyone to post comments to the blog.)
As a Beastie Boys concert junkie (something I'm quite unashamed to be!), I collect recordings of the band's live performances, especially the ones that I attend. My rare offering today is an audience recording of the Beastie Boys' show in Lake Forest, California, on October 21, 2006. This was a private show for etnies, the skateboard shoes and clothes company, for their Goofy vs. Regular skateboarding festival.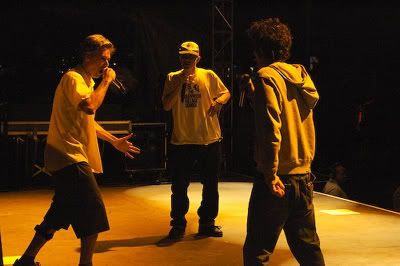 Beastie Boys Live in Lake Forest, California (photo by
Jesse Baron)
Set List
Intro
Mix Master Mike Intro
Triple Trouble
Alright Hear This
Sure Shot
Pass the Mic
Paul Revere
High Plains Drifter
The New Style
Flute Loop
Brass Monkey
Ch-Check It Out
Body Movin'
Skills to Pay the Bills
Three MC's and One DJ
So What'cha Want
Intergalactic
Gratitude
Sabotage
Outro
This recording has not been previously shared publicly.
Beastie Boys Live in Lake Forest, CA (68.73 MB zipped file hosted at megaupload.com)
Much thanks to the taper of this recording and all the tapers who share their recordings with the fan community! If you download this recording, please leave a thank you message for the taper in the comments here and/or post your opinion of the show.