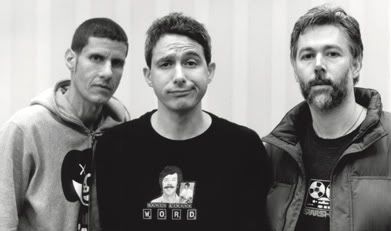 CHUD.com has an
entertaining interview
with the band, talking about
Awesome
and some other silly stuff.
Q: There were some great, great audience shots, especially the girl who was dancing like you, Mike.

Mike D: She was actually digitally manipulated. Her dancing wasn't anything to do with it and it has nothing to do with what I'm capable of.
City Beat has a
strangely pieced article
that combines an interview with the band while they were at SXSW this month with an interview from the
Paul's Boutique
era. Have a beer before you read this one. It might make sense.
Fashionably late,
New York Press
offers an
interview with the Beastie Boys
while they were at the Sundance Film Festival in January.
How did you manage to stay together so long?
Mike D: Fistfights.
Adrock: Yeah, but it's not just fights, it's group therapy. We have encounter bats.
Mike D: And we have a lot of pillow fights. We learned that from Aerosmith. They taught us about therapy and shoulder rubs.
Adrock: And raunch.
Finally,
The New York Times
provides a
conversation with the Beastie Boys
from the New York premiere of
Awesome
at Loews Theatre the other night.
After a little talk about the movie, we asked if there were any big projects in the works.

"No," said AD ROCK, who was chewing gum.

A long pause.

"We have a lot of stuff we are working on," he added.

"We are lying," said MIKE D.

"We're just kicking it, you know. Rhyming," said Ad Rock.

His eyes scanned the lobby indifferently. "Oh, detailing cars. Restaurants, lots of restaurants."