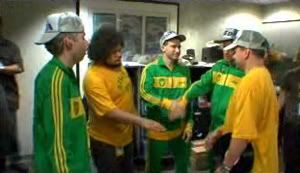 You've seen the
Awesome; I Fuckin' Shot That!
web site
and
the trailer.
Now it's time to feast your eyes on the
Awesome Myspace.com page
-- which was inevitable, considering Myspace.com is a sponsor of the film.
For a short time today, the page featured video from the film, but it was removed and replaced with the trailer, which was also removed later. The page appears to be maintained by a Swiss shepherd.