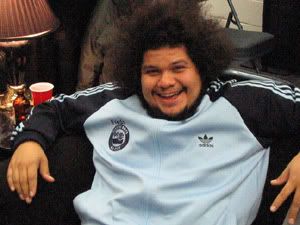 If the Beastie Boys decide to tour with instruments in the future, they will be searching for a new percussionist.
Alfredo Ortiz,
who handled percussion on the Pageant tour, now has a full-time job with another band. Last fall, Ortiz joined the rock band
Morningwood,
replacing the band's original drummer.
On
Morningwood's message board,
frontwoman Chantal Claret explained how Ortiz came to join the band:
"Pedro [Yanowitz, Morningwood's bassist and co-founder] has known him for years from when they both played double drums for Money Mark."
Morningwood's self-titled debut, which was produced by
Gil Norton
(Pixies, The Distillers, Jimmy Eat World), is generating a lot of buzz, as are the band's wild live shows. Ortiz does not feature on the album; however, he will be performing with Morningwood as they tour with
The Sounds
(see
tour schedule
). Morningwood's next live performance will be at
SXSW
, where Ortiz may have the opportunity to catch up with his old friends, the Beastie Boys, who will be
making an appearance
at the music and film festival.