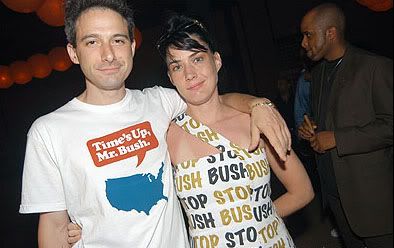 Several weeks ago, Beastie Boys fans speculated that Adam Horovitz had married long-time girlfriend Kathleen Hanna after he began wearing a flashy ring. Without any solid proof or confirmation from a reliable source, most fans dismissed the talk of the marriage as false. A new interview with the Beastie Boys, however, may get fans' tongues wagging on the subject again.
In an interview published in today's
Newsday,
Mike Diamond refers to "Adam's wife":
The press conference [at SXSW] ended awkwardly, as Adrock talked about a link between Scientology and radio monolith Clear Channel, though he later learned there wasn't one.

"It was an awkward note to end the press conference on," MCA says

"Yeah, it was pretty dumb, pretty bad," Adrock says.

"Upon hearing about it, Adam's wife called him an idiot," Mike D says.

"Yes she did," Adrock says. "'Idiot' was the exact word. But I have been called that plenty of times."
Although it's possible
Newsday
misquoted Diamond, it also possible that the publication quoted him correctly. In either case, fans wish Horovitz and Hanna happiness.