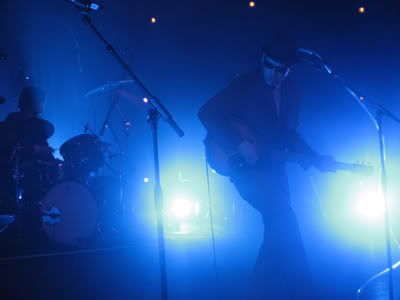 Photo by bgirl*555
Last night (April 6), Beastie Boys performed a secret show in an old bowling alley in Portland, Oregon. The show was staged to celebrate the 25th anniversary of Wieden + Kennedy, a Portland-based advertising agency.
Approximately 500 people attended the private, invite-only event. Beastie Boys went on stage at 8:45 p.m. and played until 10 p.m. Among the songs played were:
Shake Your Rump (with an Alive snippet)
Intergalactic
Body Movin'
No Sleep Til Brooklyn
Brass Monkey
3 MCs and 1 DJ"
So What'cha Want
Root Down
Alright Hear This
Jimmy James
Something's Got to Give
Gratitude
Sabotage
Earlier in the day, a number of fans bumped into the band at
Laughing Planet
, a cafe located on Mississippi Avenue. One witness told Mic to Mic that the fans were overly enthusiastic, insisting on getting photos taken with the band. One fan reportedly tried to push his business card on Mike D. Not a pleasant scene.
Photo by bgirl*555
Photos from
W+K Studio blog
:
Photo 1
Photo 2
Photo 3
Photo 4
Photo 5
Photo 6
Photo 7