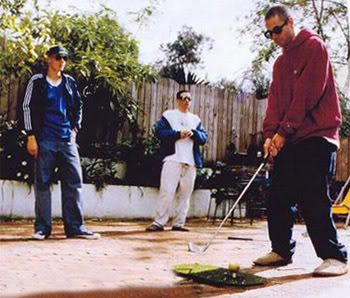 Some Beastie Boys music news has slipped out of Adam Yauch's mouth while he has been talking to the press about his film
Gunnin' for That #1 Spot
.
Yauch told Rolling Stone
that the Beastie Boys are "40 percent" finished with a new album. "It'll be a mix of things. We'll play on it, and there'll definitely be some hip-hop," Yauch revealed.
When and how much the Beastie Boys have been working on the album is a mystery because they have failed to turn on the
O-scope cam
, which they promised fans they would do if they were in the studio working. This so-called "40 percent finished album" could be comprised of recycled or unused songs from previous recording sessions.
Although most fans have come to accept the lack of updates and communication from the band, it remains disappointing to be left in the dark about promised Beastie Boys projects, including the remix version of
The Mix-Up
and the Detroit/Chicago Gala Event dvd. Most disappointing (and, at the same time, exciting) for us to learn is that there is a
new Beastie Boys song
in
Gunnin' for That #1 Spot
. How could the band overlook telling their fans something
that
interesting?!
According to the press notes handed out to the media at the Filmmaker Talks event at the Apple store in Soho, Yauch's basketball documentary contains a new Beastie Boys song titled "Bass Line Is Nice."