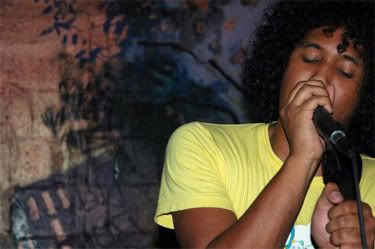 Reggie Youngblood of Black Kids (photo:
myspace.com/blackkidsrock
)
Earlier this month, we posted a story about
Mike Diamond checking out the Black Kids' set
at the CMJ Music Marathon in New York. Today, music site
Grooveshark.com published an interview
with Black Kids' vocalist/guitarist Reggie Youngblood in which they ask him about having a Beastie Boy as a fan.
Grooveshark: I've read that Mike D from Beastie Boys is a big fan of yours. Do you have any idea how that developed?

Reggie: We don't actually know if he's a fan or not. He came to one of our shows, but I don't know. He traveled to come check us out, he was there–that's a mindfuck, that he came to see us play.
Mike is not alone in his fandom of the Black Kids. The band from Jacksonville, Florida, has been receiving immense attention and accolades from the music media and indie music fan scene. You can download the Black Kids' free EP, titled Wizard of Ahhhs, at their official web site.