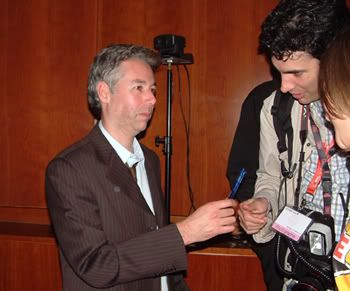 Italian fan Irene reports on the Rome Film Fest.
On October 15, 2006,
Awesome; I Fuckin' Shot That!
was officially screened for the first time in Italy at the
Rome Film Fest
in a new film category called "Extra."
Around 11 p.m., Adam Yauch arrived at the event with
Lorenzo Cherubini
, an Italian rapper who was popular in the 80s and early 90s (he still performs today, but not rap). Yauch was interviewed on the red carpet over the cheers of the Italian crowd, who were screaming and shouting for Cherubini's attention.
Inside the cinema hall, a festival organizer introduced Cherubini to the audience and provided some instructions for watching the movie. "This is not the usual concert movie, so we don't expect that you will keep silent during the screening," said the organizer. "You can do whatever you like -- sing, jump, dance. It would be better if you dance and sing!" He explained what the movie was about and how it had been produced.
Cherubini was on hand to introduce Yauch. "Well, I think it's useless to introduce the Beastie Boys because I guess you all know them if you are here! So let's welcome Adam Yauch!" said Cherubini.
Yauch entered the hall to great applause and said hello in Italian with excellent pronunciation. He talked about the film, joked about Nathaniel Hornblower, thanked the audience for being there, and then took a seat in the pit to watch the movie.
When the screening started, most of the audience did not make very much noise. They just clapped their hands a few times between songs. At one point during the screening, Yauch, not satisfied with the sound, got out of his seat and turned up the volume. After that, the audience started jumping in their seats. The seats were shaking from the bass. It was difficult to discern audience noises in the hall from audience noises in the movie because the volume was so loud.
When the film ended, Yauch thanked the audience again for coming. He began to leave but was stopped by a fan who asked for an autograph and photo with him. Yauch obliged the fan, which lead to the same request from other fans. After a 30-minute autograph and photo session, Yauch left the hall with the fans instead of with security or festival staff.
Click on the above image to see Irene's photoset.