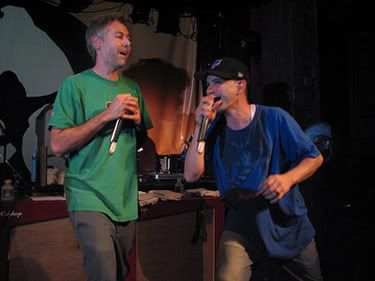 Photo by RB/Mic to Mic
For their third concert in 2006, the Beastie Boys performed for an audience of devoted fans at the Hiro Ballroom in the Maritime Hotel in New York on October 4. The concert, titled
Gimme Shelter: Rock & Rescue NYC,
was a benefit to support animal rescue and no-kill city shelters. Organized by the
ASPCA
and
Rational Animal
, the concert featured an eclectic mix of performers, ranging from Nellie McKay to punk band the Sick Fucks.
The Beastie Boys delivered a 14-song, high energy set, kicking off with crowd pleaser "Slow and Low." During their 50-minute set, the band stopped to thank fans for supporting the cause. As big animal lovers, the Beastie Boys have given their time and money to many organizations working to help animals over the years. Fans may recall that the band donated a portion of their ticket sales to local animal shelters during the Pageant tour.
The Set
Slow and Low
[video 1]
//
[video 2 - part 1]
[video 2 - part 2]
//
[video 3]
Body Movin'
[video 1 - part 1]
[video 1 - part 2]
//
[video 2]
Sure Shot
[video 1]
//
[video 2]
Triple Trouble
[video 1 - part 1]
[video 1 - part 2]
//
[video 2 - part 1]
[video 2 - part 2]
Shake Your Rump
[video 1]
//
[video 2]
Pass the Mic
[video 1]
//
[video 2]
Egg Man
[video - part 1]
[video - part 2]
Hello Brooklyn
[video 1]
//
[video 2]
//
[video 3]
No Sleep Til Brooklyn
Root Down
[video]
Ch-Check It Out
3 MC's and 1 DJ
Intergalactic
[video 1]
//
[video 2]
//
[video 3]
//
[video 4 - part 1]
[video 4 - part 2]
So What'cha Want
[video - part 1]
[video - part 2]
Video credits: DandyFop, Bionic, YoungRemy, maestro118, BGirl, lyneday, Me
Photo Sets:


By DandyFop, Sachyn, shullovox

By marikosuave, eatsdirt, lonnehendrix
By RB