Photo by RB/Mic to Mic
On October 7, the Beastie Boys were recognized for their contributions to hip hop music at the third annual
VH1 Hip Hop Honors
. The event pays tribute to the hip hop pioneers who transformed the genre into a cultural phenomenon. Also honored at this year's ceremony were Ice Cube, Wu-Tang Clan, Afrika Bambaataa, Russell Simmons, MC Lyte, Rakim, and Eazy E.
Upon arrival at New York City's Hammerstein Ballroom, the Beastie Boys participated in the Hip Hop Honors red carpet hoopla, posing for photographers and talking with media. My colleague and I both worked the red carpet. Click on the images below to see our photosets of the Beastie Boys on the red carpet.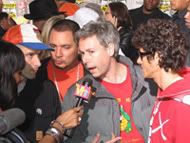 Inside the Hammerstein Ballroom, the Beastie Boys were honored in the form of a tribute performance by Q-tip, Fabolous, and Diddy with Mix Master Mike. The three MCs and one DJ performed abbreviated versions of "Paul Revere" and "Hold It Now Hit It" for the Beastie Boys, who watched the performance from box seats on the side of the stage.
Q-tip, Fabolous, and Diddy perform a tribute to the Beastie Boys
Following the tribute performance, the Beastie Boys took to the stage to perform "So What'cha Want" and "The New Style," only to be stopped in mid-performance by VH1 production crew because their microphones were cutting out. Amid yelling and booing from the audience was a call by VH1 for the band to repeat the performance. The audience responded with delight.
Technical errors interrupt the Beastie Boys performance at the Hip Hop Honors
The second performance was a success and, at its conclusion, Q-tip, Diddy, Fabolous, and Tracy Morgan joined the Beastie Boys on stage to congratulate them.
Beastie Boys perform "So What'cha Want/The New Style" at the Hip Hop Honors
The Hip Hop Honors will premiere on VH1 on Tuesday, October 17 at 9 p.m. ET.