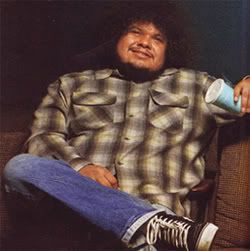 Click on the above photo to see the article as it appears in print.
Tu Ciudad
, a Latino magazine based in Los Angeles, has singled out Alfredo Ortiz in a feature titled "25 Angelenos We Love" in its October/November 2006 issue. According to the article, the
Morningwood
drummer and Beastie Boys percussionist will be playing on the Beastie Boys' next studio album. Ortiz' involvement on the album seems to indicate that the Beastie Boys do not intend to produce an all-rap album like
To the Five Boroughs
.
(Thanky Pooty)