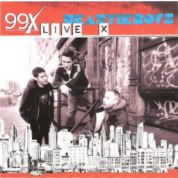 On October 15, 2004, the Beastie Boys performed a private show in Atlanta, Georgia, for winners of a contest sponsored by
99X radio
. To win, listeners had to call in and provide answers to Beastie Boys-related questions (for example, what are the ingredients of a brass monkey?). Fifty winners and their one guest were treated to a three-song performance and an interview with the band.
99X recorded the session and made it available on a limited edition CD to the 50 winners.
Note:
The mp3 downloads will be available for one week.