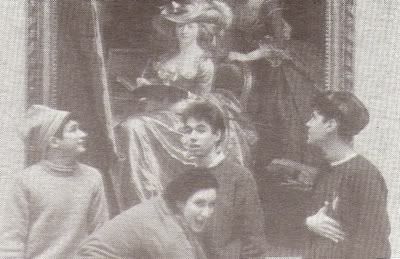 Beastie Boys at the Metropolitan Museum of Art in New York, 1984
You started out as a big fat joke band, right?

Kate Schellenbach: Yeah, a big fat joke band.

Michael Diamond: We still are except now we lost weight, so we're a skinny joke band.
9th Beastie, my Beastiemania.com colleague and pal, recently acquired a 1984 punk fanzine with an interview with the Beastie Boys. The band -- then comprised of Adam Yauch, Michael Diamond, Kate Schellenbach, and a young man calling himself Adam O'Keefe -- share what they had for breakfast that day, their plans for the future, the names of their favorite clubs, what they got for Christmas (
Mike: I got a lot of Mr. T things for Christmas. Mr. T was big under the Christmas tree this year.
), and other very important things. This material is what we refer to as "classic Beastie Boys."
Click to read. Use the "All Sizes" link above the images at Flickr to see larger images.