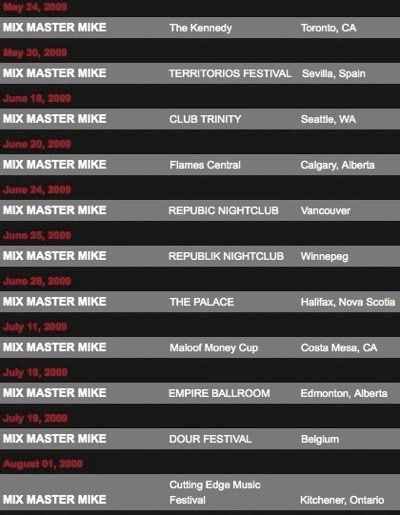 From
Copelandentertainment.com
Mix Master Mike's tour schedule is evidence that Beastie Boys will not be releasing their new album and touring until this fall. August [
Update:
now confirmed to be September] seems the likely month that fans can expect some new music and tour action. In the meantime, fans will have to be happy with the
two new tracks
and the announced festival performances, which are sure to be "greatest hits" sets. Beastie Boys have stated in the past that they don't like to play new songs for festival audiences because they're generally not accepted well.
From all accounts we've heard, the new Beastie Boys album is completed and has been completed for some time. A listening session with some label reps happened at the end of January. The report we heard was that "All three sound great -- especially Adrock." Another source who has heard some of the album told us that it sounds very
Check Your Head
ish. Chomp on that.