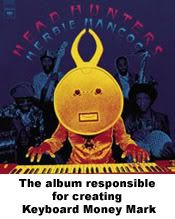 At age 10, [Money Mark] Nishita moved with his family to Los Angeles County when his father, an electronics engineer in the aerospace industry, took a job with the Hughes Aerospace Group. Nishita remembers showing his father a photo of the Fender Rhodes keyboard he wanted, pictured on a Herbie Hancock album sleeve. "He bought it for me, but he said when I get it we're going to take it apart, figure it out, then we'll put it back together...That's what we did, so I got to learn how the inside of stuff worked, and that was very helpful, even to this day."
The Detroit News has published a feature article on Money Mark this week. The timing of the article's publication coincides with Mark's appearance in the Motor City with Jack Johnson's tour. Read the article
here
.
Money Mark is currently the most musically busy person on the Beastie Boys team. (Mix Master Mike recently wrapped up his world tour.) In addition to working on a
new album of his own and contributing to the new Beastie Boys album
, Mark is touring with Jack Johnson and is featured on the new
Joseph D'Anvers
album, titled
Les Jours Sauvages
, on the song "Kids." Mark also appears in the video for "Kids" (see below). D'Anvers' album, which was produced by Mario Caldato Jr., will be released by Atmosphériques on June 23. [
Amazon link
]
You may listen to "Kids," as well as remixes of the song and others from
Les Jours Sauvages
, at
D'Anvers Myspace page
.