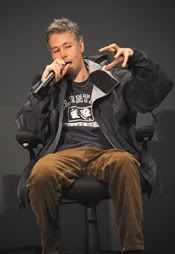 Esquire
magazine has named Adam Yauch
Genre Crosser of the Month
in the "Best Performances" column in its July issue. And, no, that doesn't mean Yauch dresses like a woman. Well,
he does
sometimes, but nevermind that.
The men's magazine is acknowledging Yauch's success from musician to filmmaker with the release of his film
Gunnin' for That #1 Spot
at the end of this month.