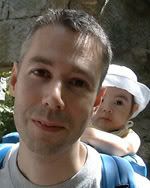 Adam Yauch spent Father's Day weekend in Las Vegas, scoping out films as possible Oscilloscope Pictures projects at the
CineVegas Film Festival
.
"I like looking at films. I go to film festivals," Yauch told the
Las Vegas Review-Journal
. "Most of the filmmakers we're dealing with are indie filmmakers. And they really just care about filmmaking. They're more artistic people. So far, I think we've circumnavigated most of the Hollywood (B.S.)."
The Review-Journal reports that Yauch attended a
screening afterparty and performance
at the Palms pool for the film
Dark Streets
, starring Bijou Phillips.
Since the Tribeca Film Festival premiere of his basketball documentary
Gunnin' for That #1 Spot
last month, Yauch has been working hard on a new edit of the film. Last week he finalized his edit with the help of his friend Adam Horovitz. Presumably, this new edit is the final print that will be shown in
cinemas nationwide
.