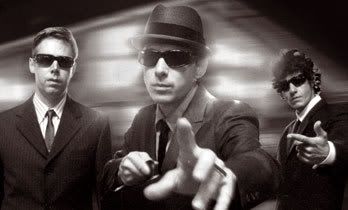 Beastie Boys have confirmed that they will be performing at this year's
Sonar Festival
in Barcelona, Spain. They will be doing two sets --
an exclusive instrumental show
on June 14 and a
standard set
on June 15.
Tickets are on sale now at
Ticktackticket.com
. The site does not allow direct ticket order linking. Please follow these instructions to order in English:
Go to this page.

In the Search field, type "Sonar."

Click the orange "Buy" button on the right side of the page to get the correct ticket order page.

On the ticket order page, indicate in the blank fields next to "Opening Night Ticket - Thursday 14th" and/or Sónar by Night Friday 15th Ticket how many tickets you wish to purchase. (These instructions are applicable if you're only interested in seeing the Beastie Boys' sets. Festival passes are available if you wish to attend the entire festival.)

Provide your credit card information.

Choose shipping option. (Please note that the ticket service's international delivery is very limited. U.S. orders will be held at will-call for pick-up.)

Click "Confirm."
As an added bonus, the Beastie Boys concert film
Awesome: I Fuckin' Shot That!
will be screened at the SonarCinema on all days of the festival (i.e., June 14, 15, and 16).