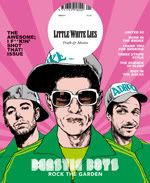 The Beastie Boys' film
Awesome; I Fuckin' Shot That!
is the focus of the current issue of
Little White Lies
, a UK movie magazine. Included in the issue are
an interview with Adam Yauch
, reviews of the film by fans who attended a secret screening in London, and drawings of the band created by fans.
The magazine may be purchased at
LWLies's online shop
.
(Yo, Jeremy)