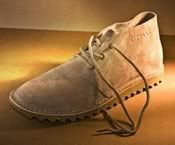 Footwear company
Airwalk
is crediting Adam Yauch with its decision to bring back a discontinued shoe, the Desert Boot.
Before the last Beastie Boys tour, Yauch contacted Airwalk and requested the shoe, which has not been produced for years. Airwalk apparently replied, "Your wish is our command," as the bass man wore the shoe often throughout the entire world tour.
Adam Yauch sports the Airwalk Desert Boot at a Beastie Boys concert.
Airwalk will give away 300 pairs of Yauch's beloved shoe at its "Breaking the Mold" event at
Hotel on Rivington
in New York on January 27, from 7-10 pm. (The shoe is
not
being produced for retail.) If you would like to attend the event and have a shot of getting a free pair of the Desert Boot, RSVP to RSVP@airwalk.com by January 23.