Beastie Boys on CTV's eTalk
On Monday (July 31), the Beastie Boys completed another round of media interviews in Toronto. Among them was one with
eTalk
, for CTV's web site. In the interview, the band described their next project, which will involve handing out 50 guns equipped with cameras to fans and a celebrity kill subject (possibly Brad Pitt). Click on the image above to see the video. Alternatively, download and listen to an
mp3
(12.7 MB) of the interview. [Highly recommended]
The Beastie Boys also appeared on CTV's morning television program
"Canada AM"
on Monday. Although I was unable to find video of this television appearance, I did obtain a transcript of the interview. Amusingly, only Adam Yauch is identified in CTV's transcript; Adam Horovitz and Mike Diamond both are described as "unidentified man."
Canada AM, CTV
Interview with the Beastie Boys
ANCHOR: SEAMUS O'REGAN
GUESTS: ADAM "MCA" YAUCH, BEASTIE BOYS

O'REGAN: The Beastie Boys have released their first ever concert film. The first of its kind. It's a feature length film that's shot by the fans for the fans. The trio handed out 50 cameras to audience members at their sold-out show at Madison Square Gardens. The result was "Awesome, I Shot That," a smash hit at this year's Sundance Film Festival. I've never seen anything like this DVD, where you empower fans and where 90 percent of this concert has been filmed by the fans themselves. Tell me where you got the idea.

ADAM "MCA" YAUCH (Beastie Boys): I saw something somebody shot, like a clip that somebody shot on their camera phone and then upload on our website, and just felt like it captured the energy of the show really well.

O'REGAN: Off their phone?

YAUCH: Yeah.

UNIDENTIFIED MAN: Just off their cell phone.

YAUCH: I think it was a 30-second clip.

UNIDENTIFIED MAN: It was like Lucas running on stage or something.

YAUCH: It was the beginning of the show.

UNIDENTIFIED MAN: There's a certain energy to it.

O'REGAN: Cell phones are like the new lighters or something. When you look at it now, all you see are people using the cameras on their phones and capturing whatever they can.

UNIDENTIFIED MAN: It got to be kind of surreal on the tour that the DVD was shot from. Yeah, it kind of became this, almost like we became used to it by the end of the tour.

O'REGAN: I see lots of leaves underneath the poster, which means that you've won a lot of award.

YAUCH: A lot of accolades. We actually won second place for best dressed at [inaudible] City Movie Contest.

O'REGAN: Sundance must have been a bit wild. Neil Young, Leonard Cohen, The Police, they were all there.

UNIDENTIFIED MAN: They're all big, big fans.

YAUCH: Surprising for us to beat them out on all those award.

UNIDENTIFIED MAN: At Sundance there were all these music films this year for some reason. Happening coincidentally.

FILM CLIP: You all ready for the Beastie Boys?

O'REGAN: MTV just turned 25.

UNIDENTIFIED MAN: Wow.

O'REGAN: Yeah.

UNIDENTIFIED MAN: We're right in line with them, in terms of an aging race.

O'REGAN: But you have followed the progression of videos yourselves and you've seen the trends. You've either led them or you've been right at the cusp of it. How have videos changed in your mind over 25 years?

UNIDENTIFIED MAN: Early on they were just like mostly like just some weird video effects through a special effects generator.

UNIDENTIFIED MAN: A lot of the music video channels, whatever, don't actually show music videos so much, or they do just a little bit.

YAUCH: And translate them.

UNIDENTIFIED MAN: Exactly. And so now I think if people are watching them on You Tube or whatever, they're watching them on the internet more and so bands have gotten back to, okay, we're just going to make something that we're into making, an extension of the song or whatever.

O'REGAN: They listed the top 50 most innovative or trendsetting videos and Madonna got three of the top five. You opened up for her in '85 or '87.

UNIDENTIFIED MAN: '85. On the "Like a Virgin Tour." I believe that Madonna kept us on tour in '85 because the audience hated us so much that it made her so much better.

O'REGAN: Are you serious? You didn't get good audience reaction?

UNIDENTIFIED MAN: We got booed every night.

UNIDENTIFIED MAN: It was a full-on adversarial match. We would go out there and just a battle from the second we stepped on stage.

O'REGAN: You guys have never been afraid to speak your mind about Bush or the Iraq war. You did that with "That's It, That's All." Any thoughts on what's going on right now? You guys watch the news like everybody else.

UNIDENTIFIED MAN: Yeah, it's very sad. Just like you kind of hope things in the world are turning in one direction and then you watch them go in a completely different direction.
Note to CTV:
The Beastie Boys won second place best dressed at the
LeFreak
City Movie Contest.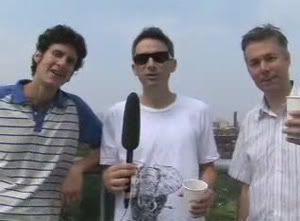 Beastie Boys on Dose.ca
The band did another video interview with Canadian online magazine
Dose.ca
, where they discussed different aspects of
Awesome; I Fuckin' Shot That!
Four separate videos segments are available to watch at
Dose.ca
. Alternatively, download and listen to mp3s of the segments:
Segment 1
//
Segment 2
//
Segment 3
//
Segment 4
Fianlly, my bgirl buddy Midzi pointed out to me that Edge 102.1 radio has posted
photos
and a
short video
of some of its interview with the band from last week at its web site.